Kate Middleton and Prince William are making their way into King Charles' coronation!
The Prince and Princess of Wales arrived at Westminster Abbey in London on Saturday for the crowning ceremony of King Charles and Queen Camilla. At the request of the King and Queen, Prince William and Princess Kate both wore formal robes and mantels for the historic occasion.
Prince William, 40, wore the ceremonial dress uniform of the Welsh Guards. As the Prince of Wales, the traditional title for the heir to the throne, King Charles made him the ceremonial Colonel of the Welsh Guards in December.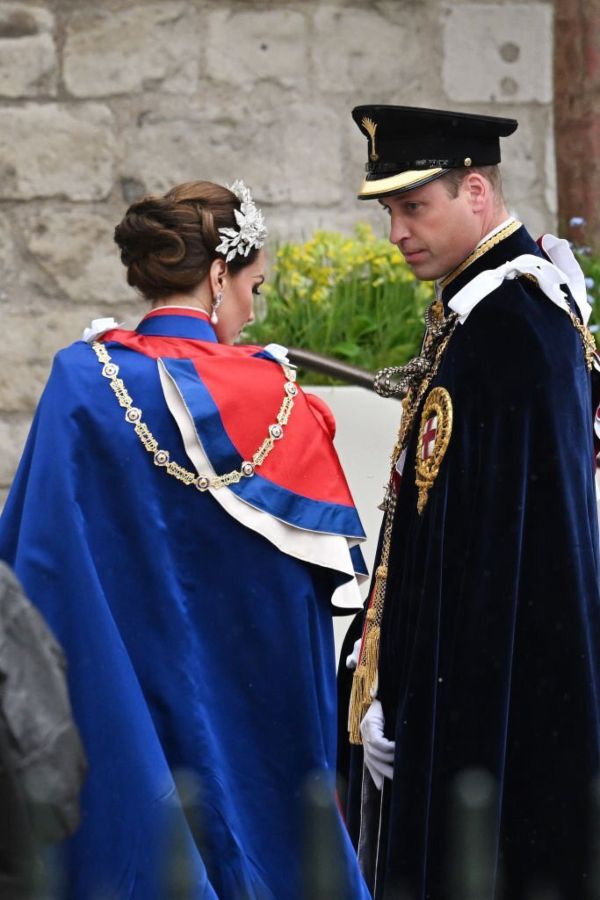 Princess Kate, 41, wore a dress by Alexander McQueen (the designer behind her 2011 wedding gown — also debuted at Westminster Abbey) in ivory silk crepe with silver bullion and thread work embroidery featuring rose, thistle, daffodil and shamrock motifs — symbolizing the U.K.'s four nations.
The outfit was topped with a Jess Collett x Alexander McQueen headpiece with silver bullion, crystal and silver thread work three-dimensional leaf embroidery.
Kate also wore some sentimental jewels, including pearl and diamond earrings that belonged to her late mother-in-law, Princess Diana. She also wore the George VI Festoon Necklace, a piece made in 1950 at the request of King George VI for his daughter Princess Elizabeth (later Queen Elizabeth).
The royal couple's three children — Prince George, 9, Princess Charlotte, 8, and Prince Louis, 5 — also joined their parents at the event. While Princess Charlotte and Prince Louis processed into Westminster Abbey with their parents, Prince George took his place with his grandfather's three other Pages of Honor.
The historic coronation is especially poignant for the Wales family. Prince William, 40, is heir to the throne and Prince George follows his father as second in the line of succession. Prince George set a new precedent as the youngest future monarch to be officially involved in a coronation service, The Telegraph reported.
While 4-year-old Prince Charles was brought in to watch part of his mother Queen Elizabeth's coronation in 1953 and 11-year-old Princess Elizabeth similarly witnessed the crowning ceremony of her father King George VI in 1937, neither participated in the actual service. The Prince and Princess of Wales' eldest son will serve as a Page of Honor for his grandfather, King Charles.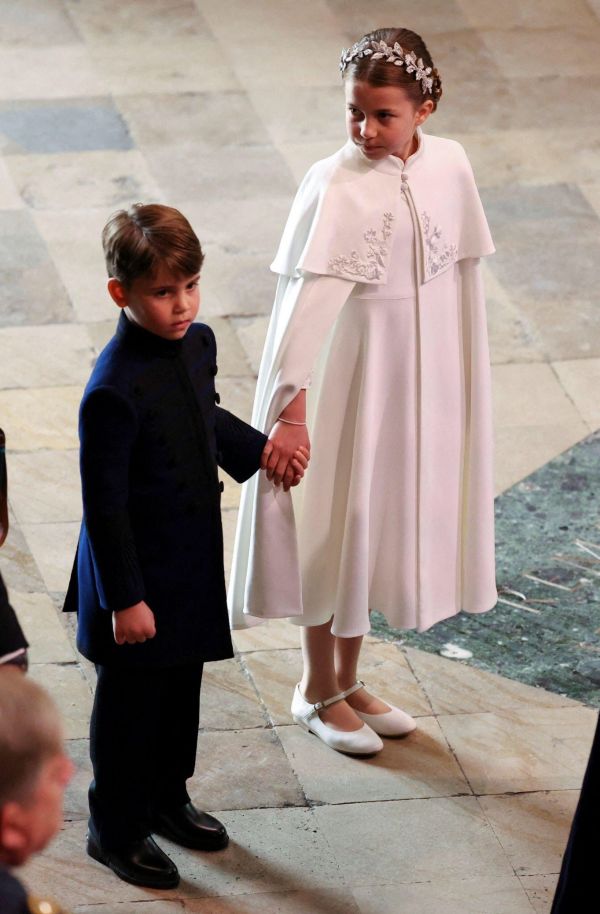 The King, 74, and Queen Consort, 75, will each be supported by four pages, who will form part of the procession through the Nave of Westminster Abbey. In another family tie, Queen Camilla's pages are her three grandsons and great-nephew.
Prince George is poised to take his place alongside Lord Oliver Cholmondeley, the son of the Marquis of Cholmondeley (who was recently named as Charles' Lord-in-Waiting) and his wife Rose — Norfolk neighbors of Prince William and Princess Kate. Nicholas Barclay and Ralph Tollemache are set to serve as King Charles' other two pages.
Meanwhile, Queen Camilla's teen grandsons will step into the spotlight to support her during the religious ritual. Twin brothers Gus and Louis Lopes, who are the sons of Camilla's daughter Laura Lopes, will be joined by Freddy Parker Bowles, the son of Camilla's son Tom Parker Bowles. Camilla's great-nephew, Arthur Elliot, will also serve as a page for the important duty.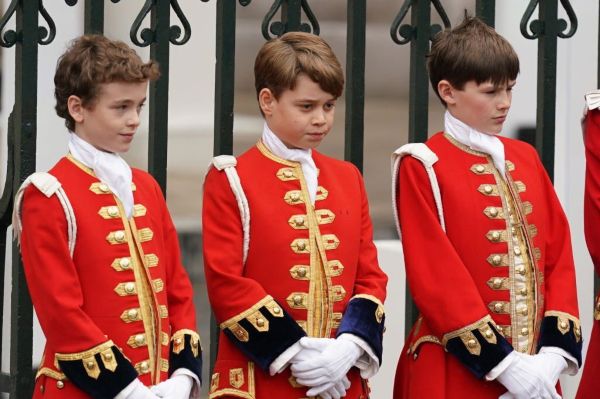 Before the big day, Prince George's involvement in the coronation was a subject of family discussion behind the scenes, as his parents juggled the unique honor with the pressure it might put on their son's shoulders.
A Kensington Palace spokesperson said, "We're all very excited about Prince George's role in the coronation, it will be an incredibly special moment."