King Charles III's coronation ceremony will be full of traditions, sparkly crowns, heavy robes, perhaps a bit of rain, and if we're lucky, a few hilarious moments from Prince Louis. His mom Kate Middleton, however, is really hoping her youngest will be on his best behavior.
On Thursday, the Prince and Princess of Wales made a visit to the Dog & Duck pub in London to have a pint of beer and meet with hospitality workers as they're preparing for a busy weekend of coronation events, in addition to a bank holiday on Monday.
Outside the pub, Middleton had a little chat with a woman about how their kids — 9-year-old Prince George, 8-year-old Princess Charlotte, and 5-year-old Prince Louis — are feeling about their grandfather's historic ceremony on May 6, the first coronation in 70 years.
"They're looking forward to it," she said in a viral TikTok posted by @catherinegulgapar. "There's a mix of nerves, anticipation, and excitement going on at the moment."
"Louis will behave you think?" the woman behind the camera asked.
"Yeah, I hope so," Middleton said with a laugh. "You never quite know with kids."
You probably remember Prince Louis' many adorable and silly moments at Queen Elizabeth's Platinum Jubilee last summer. From wiggling in his seat where he busted out some mean dance moves to sitting on his grandfather's lap, Prince Louis quite literally stole the show.
Need a refresher? Just watch @heartsforkateq's viral TikTok of Prince Louis letting loose as his siblings sit politely in their seats.
Prince Louis has been busy preparing to witness his grandfather be crowned. Earlier this week, he attended a dress rehearsal at Westminster Abbey ahead of the ceremony and may have even planted a packet of wildflower seeds with his Lambrook School classmates as a nod to King Charles' passion for the environment, nature, and conservation.
And while his big brother and second-in-line to the throne Prince George has a significant role as a Page of Honor at the coronation, Prince Louis and Princess Charlotte won't have big responsibilities to worry about.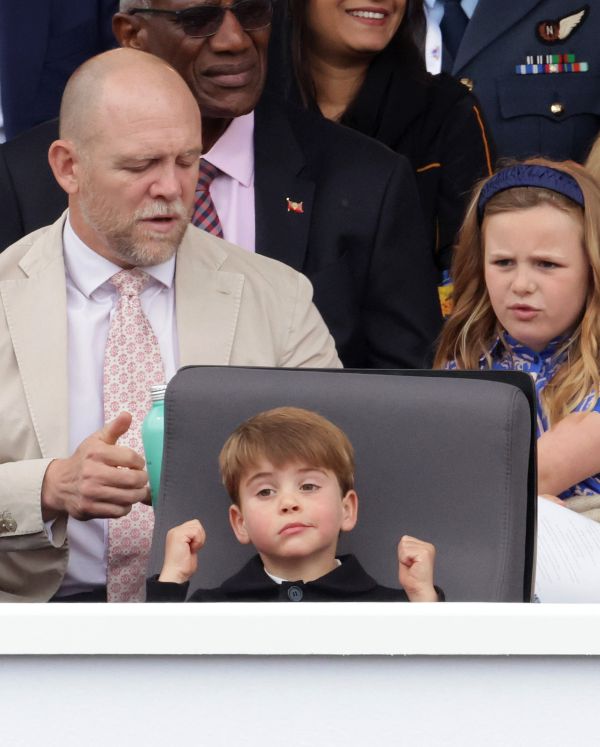 They're expected to ride in a horse-drawn carriage in a procession back to Buckingham Palace with Prince George and Middleton, according to People. They'll then appear on the balcony of Buckingham Palace with the rest of the royal family.
In other words, Prince Louis will have plenty of opportunities to give us all a laugh if he decides to really celebrate.