Adoring fans of Princess Charlotte have been left in awe after seeing the young royal "dabbing" during her father's Coronation concert speech. Prince William was celebrating his father's life of service, including his work with The Prince's Trust when the camera showed Princess Charlotte, sitting with her mother Kate with Prime Minister Rishi Sunak behind her. Charlotte is seen tipping her head to one side while smiling and lifting her arm towards her head, in what some thought was a "dab".
@TraylorHolmes posted on Twitter: "Did Princess Charlotte just dab?!"
Another user wrote: "Did anyone else see Princess Charlotte hit a dab on em tonight.
"Man I love that little girl hahaha."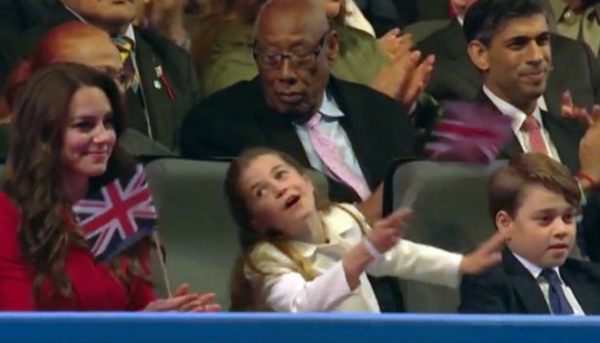 Dabbing, or the dab, is a dance move in which a person leans forward into the bent crook of a slanted, upward angled arm, while raising the opposite arm out straight in a parallel direction.
Princess Charlotte was shown on the camera gently smiling before doing the dance move seemingly out of nowhere.
Elsewhere in the Coronation concert, Princess Charlotte was filmed singing along to Katy Perry's song Eye Of The Tiger. The American popstar's performance was accompanied by a light display of a tiger's head.
As Prince William walked on stage for his speech, she also attempted to get Prince George's attention by pointing at their father.
During his speech, Prince William made a poignant reference to his late grandmother Queen Elizabeth II, saying: "I know she's up there, fondly keeping an eye on us."
He told his newly-crowned father Charles: "She would be a very proud mother."
And he concluded his speech by saying: "God Save the King," which was repeated loudly by the thousands in attendance.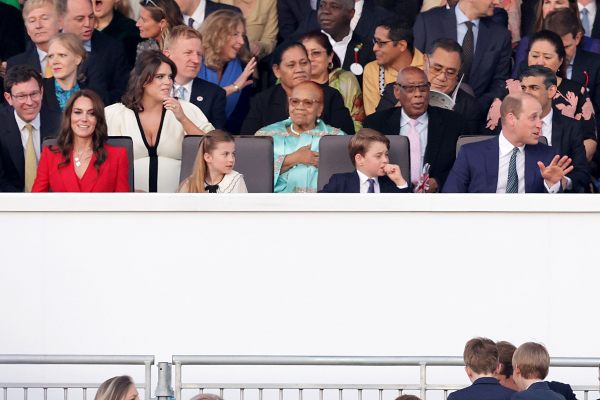 The rallying speech was followed by the national anthem, which was sung by all present, including Prince George.
The King smiled and waved to the crowd at the end of the national anthem.
Among the artists who have performed already tonight is Take That, who have not performed together in over four years.
In the final performance of their gig, they ended with Never Forget.