Kate, the Princess of Wales' dazzling outfit during the Coronation appears to have been the same as one she wore at Buckingham Palace to a reception back in December 2019.
Kate Middleton attended her father-in-law's Coronation in an Alexander McQueen gown – albeit covered by her Dame Grand Cross of the Royal Victorian Order Mantle and Collar during the service at Westminster Abbey.
The Princess' regal white full length dress with silver embroidery robe, creating a stunning union flag of colour when juxtaposed with her striking royal blue and red robe.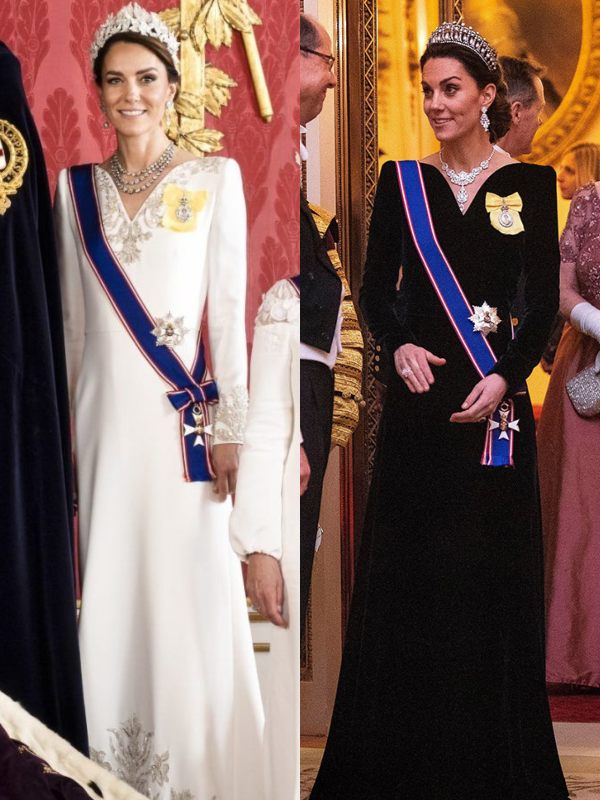 However, eagle-eyed fans noticed that this lavish white dress with a v-line neck was the same cut and design as another gown that the royal had worn over three years ago at a white tie reception in a dark navy.
Her Coronation version of the breathtaking gown was made from ivory silk and embroidered for the occasion with silver bullion and thread work embroidery featuring rose, thistle, daffodil and shamrock motifs, representing the four nations of England, Scotland, Wales, and Northern Ireland.
At the Buckingham Palace reception for Diplomatic Corps members in 2019, the then Duchess of Cambridge wowed in an almost identical McQueen dress accompanied by the Royal Victorian Order's badge, blue sash, sparkly silver drop earrings and the Lover's Knot tiara.
The Lover's Knot was previously Princess Diana's tiara, a wedding gift on her wedding to Charles back in 1981 from Queen Elizabeth, and Kate paired her mother-in-law's jewels with the McQueen navy dress.
For this ensemble the Princess of Wales instead paired the McQueen dress with a matching Jess Collett and Alexander McQueen floral headpiece with silver bullion, crystal and silver threadwork three-dimensional leaf embroidery.
Princess Kate still managed to give a touching tribute to King Charles' first wife Diana, accessorising with a pair of earrings which Prince William had gifted to his wife upon their marriage that had previously been fashioned by Diana – in her famous 'revenge dress.'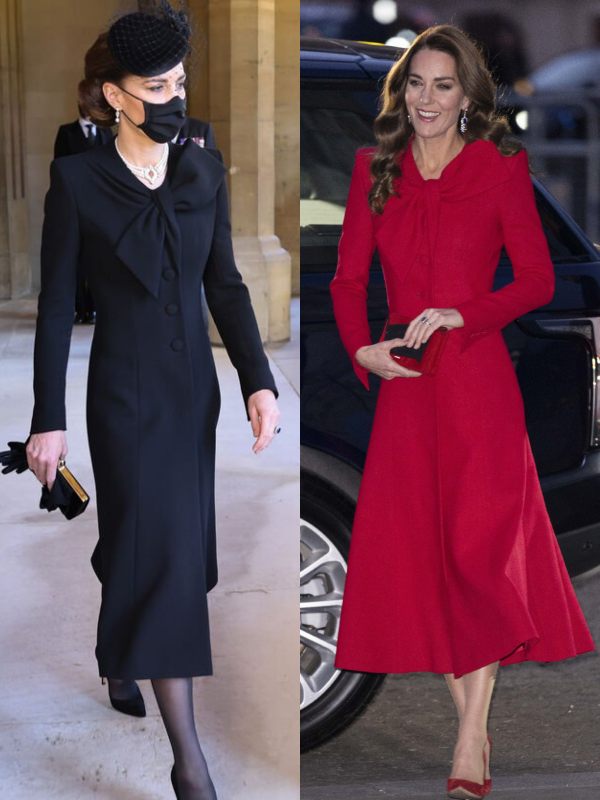 Confusion was sparked as many keen eyed royal watchers spotted that the Princess of Wales' gown looked as if it had changed throughout the day, with a round neckline during the daytime mysteriously different to the V-line neck that Kate sported for the official Coronation photographs later on.
A solution came from royal expert and sky news comentator, Alistair Bruce, on Twitter who suggested Kate wore an additional, temporary cape over the top of the dress.