Kate Middleton says that Prince George, Princess Charlotte and Prince Louis are flexing their cooking skills.
The Princess of Wales shared her children's meal plans for the evening during a visit to Oxford House Nursing Home in Slough on Tuesday. The outing came on Shrove Tuesday — the day before Ash Wednesday, also known as Fat Tuesday, Mardi Gras or Pancake Day — and Princess Kate joined residents in preparing pancakes to mark the occasion.
According to the Bucks Free Press, the royal told a resident named Sheila that her three children would be making the breakfast staple.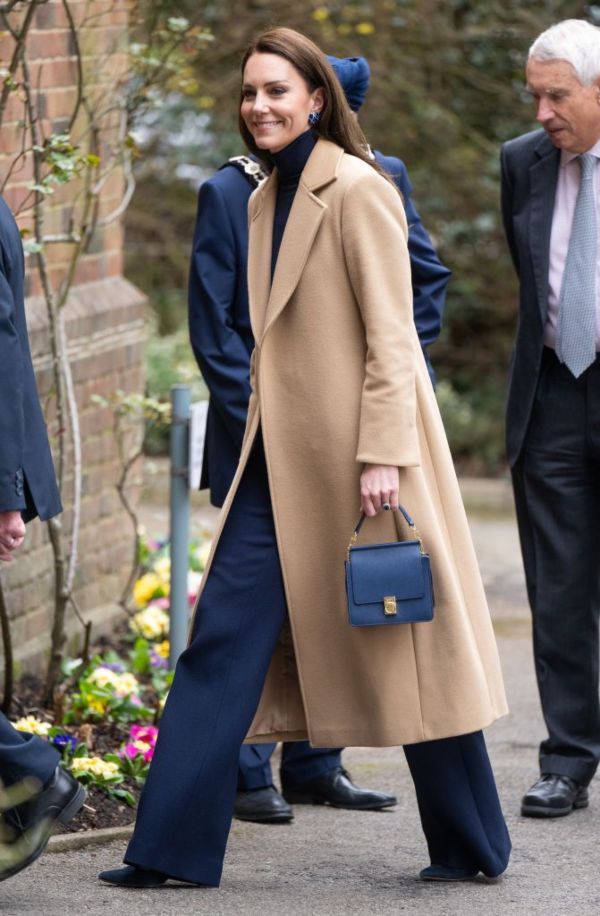 "I either get pancakes stuck on the floor or on the ceiling, but the children are very well and we will be making our own pancakes this evening with the children," Kate said.
Princess Kate shares Prince George, 9, Princess Charlotte, 7, and Prince Louis, 4, with Prince William, who recently praised his wife as a "very good" cook.
The royal couple has previously spoken about cooking and baking with their kids, including as an activity during the COVID-19 pandemic. They also posted photos of Kate, George, Charlotte and Louis making cupcakes during Queen Elizabeth's Platinum Jubilee in June 2022.
Kate showed off some of her kitchen skills during the stop at Oxford House Nursing Home, joining staff to make pancakes. The Princess of Wales laughed when the pancake in her pan became stuck, freeing it with a spatula and giving it a little flip.
"All the ones that were made earlier are much nicer than this one!" she joked in a video shared to Twitter by Richard Palmer of the Daily Express.
"I'm sorry, I haven't done you justice," Kate told the chef standing by her side.
The nursing home's head chef, Anna Wright, told Hello! magazine that Kate "did a very good job."
"I think maybe the mixture was a bit thick, and she was under quite a bit of pressure," the chef said.
Wright added, "She said she will make them for her kids, but I'm sure she will make better."
Kate chatted about food again elsewhere during the visit, where she connected with 109-year-old resident Nora Muchmore about a shared favorite dish.
As seen in a video obtained by Hello!, Kate gently rubbed Nora's knee and asked, "What's your favorite thing to eat?"
The centenarian said she liked kidneys and Brussel sprouts, and Kate replied, "Oh, kidneys! I love kidneys too!"
Princess of Wales flips pancakes like a pro 🥞#shrovetuesday pic.twitter.com/0fhE82TFdp

— Royalinstablog (@royalinstablog) February 21, 2023
Princess Kate also spoke with Nora about her Jan. 7 birthday, pointing out that they shared the same star sign.
"That's two days before mine. Fellow Capricorn!" said Kate, who turned 41 on Jan. 9.
While Oxford House Nursing Home provides nursing care for up to 34 residents, the organization also operates Oxford House Community Care, which provides support to enable people in the local area to reside safely and independently in their own homes.
Princess Kate is back to royal duties after scaling back her schedule last week while her three children were on a school break. During the time off, Kate and William, 40, reportedly took George and Charlotte to visit The Rings of Power set near their home in Windsor.
The Prince and Princess of Wales then hit the red carpet on Sunday at the BAFTA Awards, where Kate re-wore — and restyled! — an Alexander McQueen gown she attended the ceremony in 2019. Inside London's Royal Festival Hall, the royals watched a special tribute to the late Queen Elizabeth led by Dame Helen Mirren.