It's likely they'll all be marking Mother's Day today, and no doubt the youngsters will have some treats in store for Kate.
Like children up and down the country, Prince George, Princess Charlotte and Prince Louis will be honouring their mum the Princess of Wales.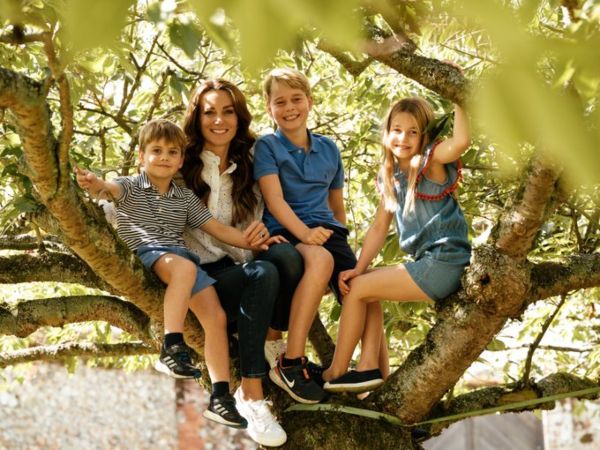 But as well as saying thanks to their mum and their grandmother Carole Middleton, they will also have their other granny, Prince William's late mother Princess Diana in their thoughts.
Even though she did not get to meet her grandchildren, William has spoken in the past about how he talks to his three children about their granny.
And several years ago on Mother's Day, he shared some cards created for Diana – with Charlotte's containing a particularly poignant message.
Her message was on a fuchsia-coloured card with a hand-drawn multi-coloured heart.
And in it, she made sure to mention how much her dad William misses his mum.
Charlotte wrote: "Dear Granny Diana, I am thinking of you on mother's day.
"I love you very much. Papa is missing you. Lots of love Charlotte xxxxxxxxx".
Meanwhile, older brother George used joined-up writing on bright green card to say: "Dear granny Diana, Happy happy Mother's Day.
"I love you very much and think of you always, sending lots of love from George xxxxx.
And Louis, who was just two at the time, also used green card for his Mother's Day card which featured a colourful heart surrounded by several animals – all of which had been stuck onto the card.
The cards were posted on the official Twitter account for the Prince and Princess of Wales where four images were uploaded, with a heartfelt message.
In the 2017 documentary Diana, Our Mother: Her Life and Legacy, William spoke openly saying he is committed to making sure his children know all about their late grandmother.
He said wants his kids to "know who she was and that she existed" and told how he "constantly" talks to his children "about Granny Diana" at bedtime so that they know "there are two grandmothers in their lives".