Crown Prince Hussein and Princess Rajwa of Jordan's recent royal wedding included the ultimate group photo!
On Wednesday, the Royal Hashemite Court released an instantly iconic shot from the June 1 wedding of the bride and groom with their distinguished guests. The photo was taken before the evening banquet at Al Husseiniya Palace in Amman and uniquely united many of the world's royals in one frame.
Crown Prince Hussein, 28, and Princess Rajwa, 29, stand front and center, as Kate Middleton and Prince William pose in the second row.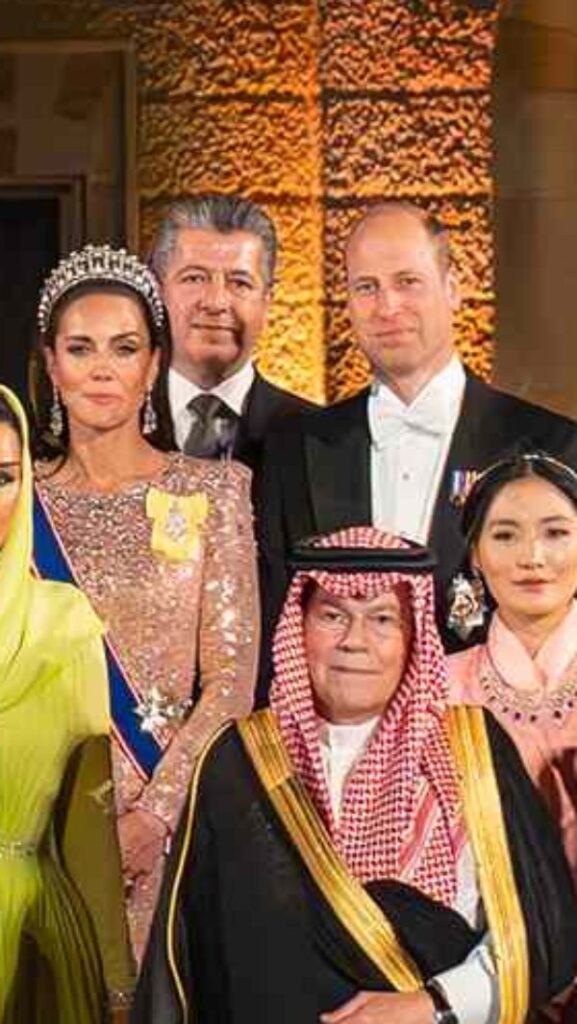 From left to right, King Philippe of Belgium, Prince Guillaume of Luxembourg, Princess Beatrice, the King and Queen of Malaysia, Crown Prince Haakon of Norway, Crown Prince Frederik and Crown Princess Mary of Denmark, Princess Hisakoa of Japan, the Sultan of Brunei and Prince Mateen of Brunei stood in staggered rows.
Princess Elisabeth of Belgium, first lady of the United States Dr. Jill Biden, Queen Jetsun Pema of Bhutan, Queen Máxima and King Willem-Alexander of the Netherlands, Queen Sofia and King Juan Carlos of Spain, Crown Princess Victoria and Prince Daniel of Sweden, Princess Catharina-Amalia of the Netherlands, Prince Pavlos of Greece and more were pictured as well.
While Crown Prince Hussein's parents, King Abdullah and Queen Rania, flanked the newlyweds, the groom's siblings were in the back row of the arrangement. Princess Iman and her new husband, Jameel Thermiotis, stood on one side while Princess Salma and Prince Hashem appeared on the other.
Gert's Royals noted that the guests wore their Jordan Honors or their highest honor from home, such as Princess Kate's blue sash for the Royal Victorian Order with her pink gown and Queen Mary's Lover's Knot Tiara.
The blog added that the group stood in an arrangement similar to where they were seated at the royal wedding, with monarchs and their spouses towards the front followed by heirs.
Foreign Royals at the Banquet for Crown Prince Hussein & Princess Rajwa's wedding.

The guests are arrange similar to the ceremony with Monarchs & heads of state with spouse in the front row. Then solo consorts & spouses of heads of state, other government officials, Heirs,… pic.twitter.com/tOH4noA7Jz

— Gert's Royals (@Gertsroyals) June 7, 2023
However, a few wedding guests were missing from the photo. Princess Beatrice's husband, Edoardo Mapelli Mozzi, was absent from the group photo, as were Princess Hisakoa's daughter, Princess Tsuguko, and Queen Jetsun Pema's sister-in-law, Princess Euphelma.
Last Thursday, Crown Prince Hussein married his architect sweetheart in an epic royal wedding nine months after they announced their engagement. Hussein and Rajwa tied the knot in an Islamic marriage ceremony at Zahran Palace in Amman, where his parents wed in 1993.